Toni Lane Casserly, the co-founder of leading cryptocurrency media Cointelegraph, has passed away in Texas, several reports confirmed today. 
According to recent updates on Twitter and Facebook by her dad, close friends, and crypto proponents on Wednesday, Casserly had been unwell and unreachable for some time and was reported dead on Tuesday night.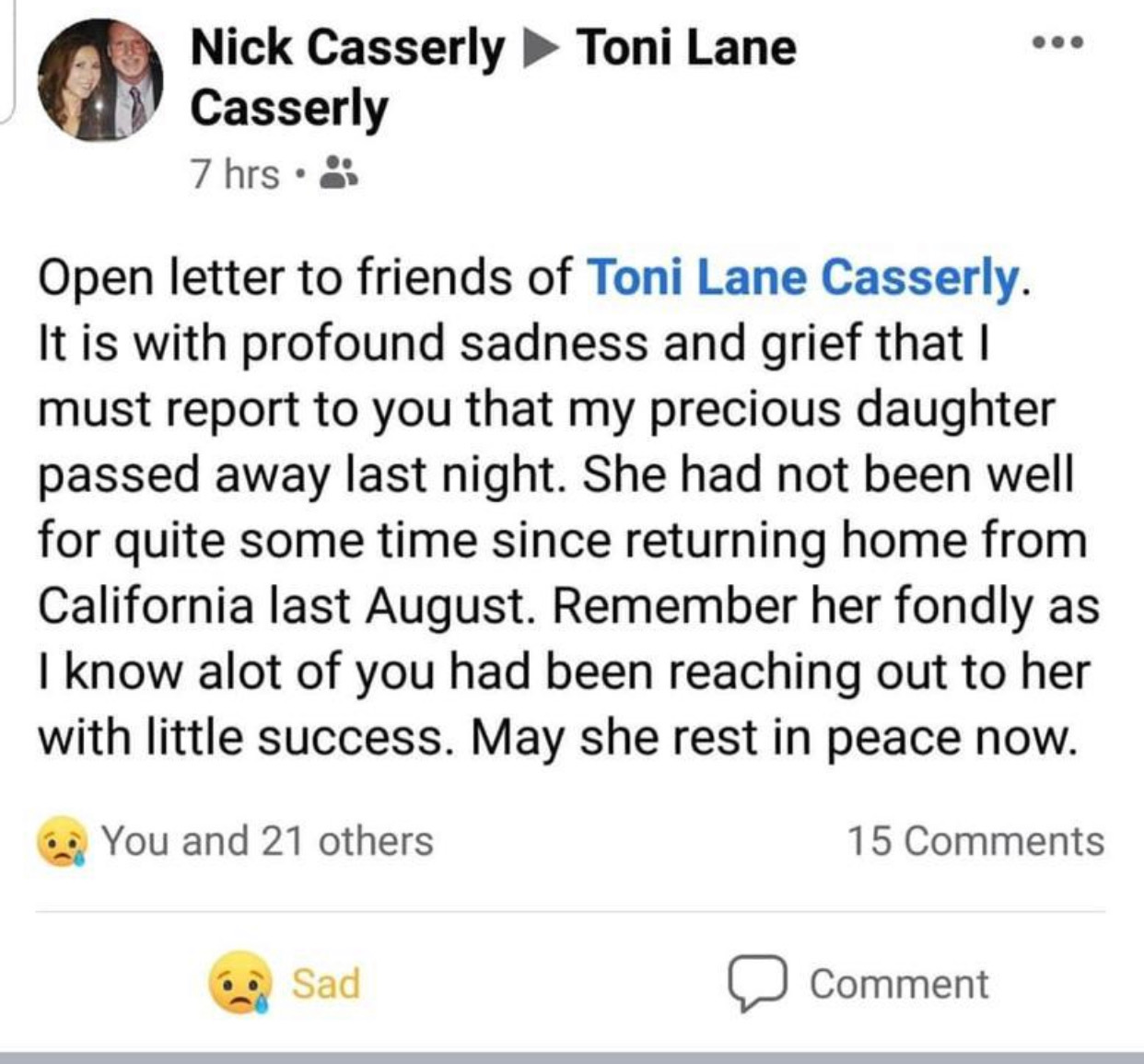 Toni Lane was an entrepreneur in the cryptocurrency and Blockchain industry. She had served as either an adviser or an onboard member to various companies and private wealth including Institute for the Future, the United Nations, SingularityU, Cisco and many more.
She was the founder of the "immaterialism" (post art) movement, which uses consciousness as a medium, CULTU.RE, blockchain governance and self-sovereignty for an interplanetary society.
In 2013, she founded Cointelegraph as a crypto-focused publication. The startup has become a successful independent digital media resource that provides 24/7 news reports from blockchain technology to crypto-assets, and new fintech trends. 
Toni Lane had been a staunch believer in the future potentials of Bitcoin and the digital assets industry as a whole. That was why she had spent ample time in creating several competitive marketplaces for governance using Bitnation.
It was because of her enthusiasm for Bitcoin and blockchain technology that she was given several names such as "The Joan of Arc of Blockchain" and "Young Star of Bitcoin" by her friends and various publications.
Casserly also used Bitcoin in some of her humanitarian works such as using it as a tool to provide aid during the Ebola virus crisis in Sierra Leone. 
She may have passed away, but the legacy she left behind in the industry will continue to be remembered for a really long time just like that of Bitcoin developer Tamas Blummer who died in January after battling cancer for 3 years. 
Your crypto deserves the best security. Get a Ledger hardware wallet for just $79!