It is now just over three months after the operators of CoinExchange.io revealed in a Twitter update that they're shutting down the platform because of a severe financial crisis caused by the crypto winter.
The announcement noted users had until Dec. 1 (two months) to withdraw their funds, while the website would be live until that date. 
We regret to inform our community that https://t.co/9Rg5khUo5M is closing down. For full details please read the following announcement https://t.co/ilvDdYuBfP

— CoinExchange.io (@coinexchange_io) October 1, 2019
However, it appears that there was some foul play involved with most CoinExchange.io users still lamenting on the Twitter thread that they were unable to withdraw their funds before the platform went offline in early December.
What was the reason?
As per multiple comments on Twitter and an email that Coinfomania received from a supposedly affected user who still had 0.3BTC (appr. $2500) on the exchange, the operators of the exchange failed to notify users of the closure via email.
With email arguably representing one of the most active communication channels used by crypto exchanges, it seems the decision not to contact users through this means was deliberate as part of a likely exit scam.
According to our findings, CoinExchange has been in operation since Q4 2016 and boasts a sizeable number of users in the region of tens of thousands or more.
With not potentially all these users active on Twitter or following mainstream a crypto news site like Coinfomania, at least an email communication was the only logical way to let them know that things were going south and that their money was on the line.
Additionally, efforts to contact the company since the shutdown is only futile as shown in the screenshot below shared with us by one of the customers.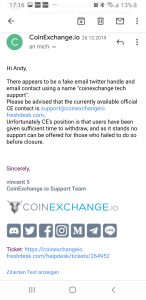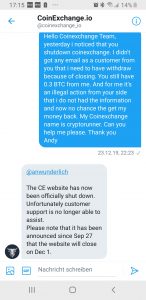 At this moment, it is difficult to ascertain the amount in dollars or crypto that unaware users have left on the platform. 
The number of "not aware" comments on Twitter suggests there may be a sizeable amount caught up with the exit, and yet another reminder of why crypto holders should never store their assets on custodial crypto exchanges.
Affiliate:  Get a Ledger Nano X for $119 So That Hackers Won't Steal Your Crypto!
Follow us on Twitter, Facebook, and Telegram to receive timely updates. Subscribe to our weekly Newsletter.