A policy update from HSBC Holdings has made it impossible for clients to purchase MICROSTRATEGY INC-A-MSTR-US, shares in publicly-traded company MicroStrategy. According to a Twitter update, the British multinational investment bank and financial services holding company told an HSBC InvestDirect user,
"Dear client, we'd like to inform you that HSBC has changed the policy on virtual currency (such as Bitcoin, Ethereum and other digital currencies) and products related to or referencing the performance of virtual currencies." 
It continued, "HIDC will not participate in facilitating (buy and/or exchange) products related to virtual currency or products referencing the performance of virtual currencies."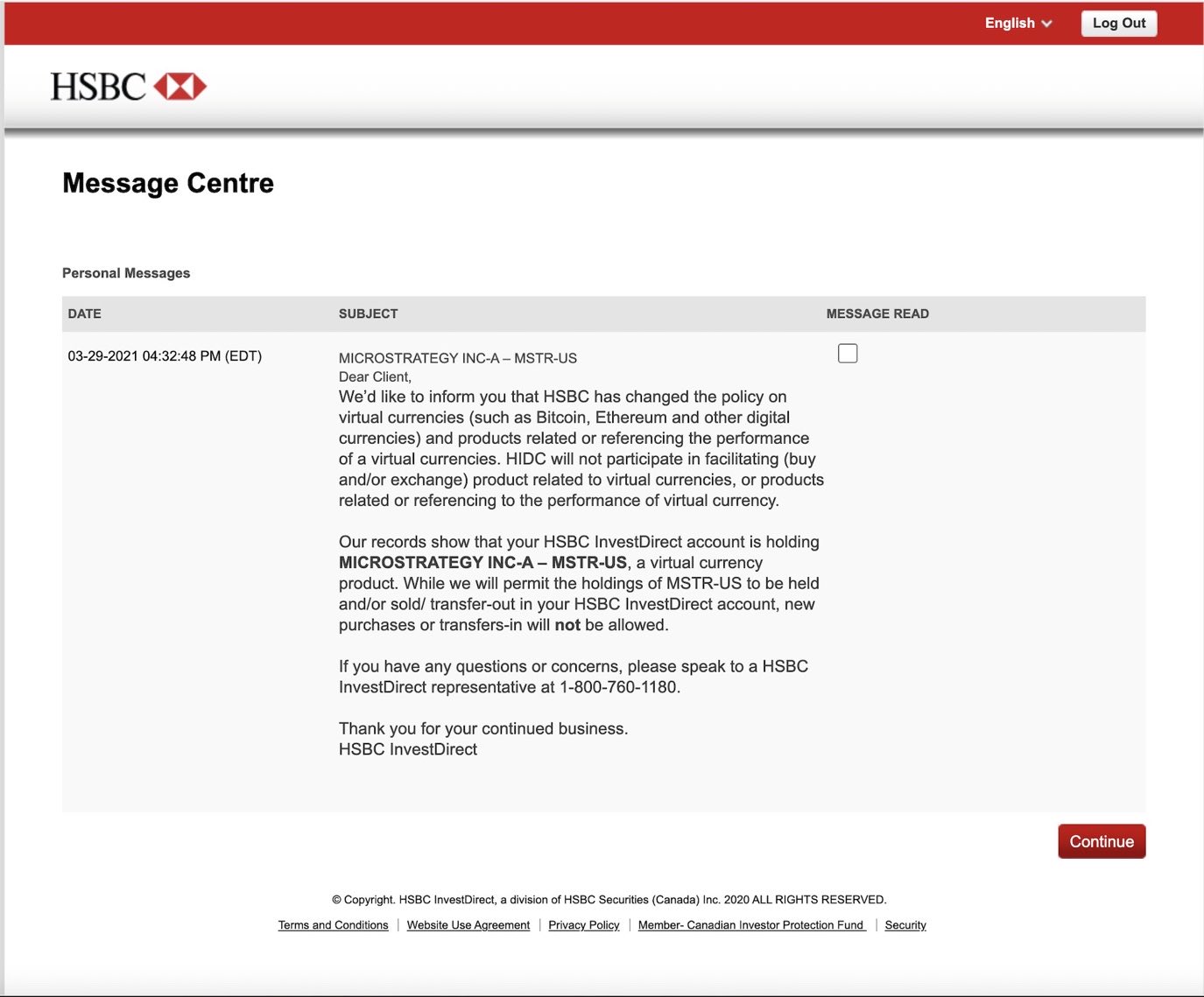 (HSBC InvestDirect MicroStrategy Ban Message)
By prohibiting all virtual currency-related products, clients can no longer transfer or make new purchases of MicroStrategy shares. However, the bank revealed that it still allows customers that hold MSTR-US in their HSBC InvestDirect account to continue holding and/or selling/transfer-out.
HSBC is one of the largest banks in Europe, having total assets of US$2.715 trillion as of August 2020. It was founded in 1991 in London by the Hong Kong and Shanghai Banking Corporation to act as a new group holding company.
The British bank has historically been unfriendly to Bitcoin as older reports suggested that it blocked transfers to crypto exchanges, therefore the bank's latest policy on virtual currencies may not be too surprising.
However, by telling customers the kind of shares to buy or not to buy, HSBC is perhaps overstepping their policies and this perhaps might push MicroStrategy to make an attempt to fight back.
Will HSBC MicroStrategy Ban Affect Coinbase Stock?
Jameson Lopp, a Bitcoin engineer who was the chief technology officer of crypto startup Casa until November 2018, heard of the new HSBC policy update and posted a tweet. He made reference to the upcoming Coinbase listing as the leading U.S.-based cryptocurrency exchange plans to go public on NASDAQ through a direct listing.
Will @HSBC have the balls to ban its clients from buying @coinbase stock?

— Jameson Lopp (@lopp) April 9, 2021
Meanwhile, business intelligence company MicroStrategy has not relented to its Bitcoin bullish run. Its last purchase of 253 BTC valued at $15 million, including other expenses brought the firm's total bitcoin holdings to 91,579 BTC which were acquired at an aggregate price of $2.226 billion.
Will the recent HSBC policy cause MicroStrategy to take a break from its purchase of Bitcoin or will it result in a contrary outcome?
Your crypto deserves the best security. Get a Ledger hardware wallet for just $79!