Cryptocurrencies are gradually revolutionizing the entire financial system mainly due to their potential for being used to transfer large sums of money within a few minutes.
Not only are these transactions fast, but they are also processed with incredibly low fees, as was the case of an Ethereum transaction reported today, January 15.
As per the alert which was reported by SNX Whale Watch, an entity that monitors large transfers of the Synthetix (SNX) token on the Ethereum network, a total of 74,580,629 SNX tokens worth more than $1 billion at the time of the transaction was moved within a couple of seconds.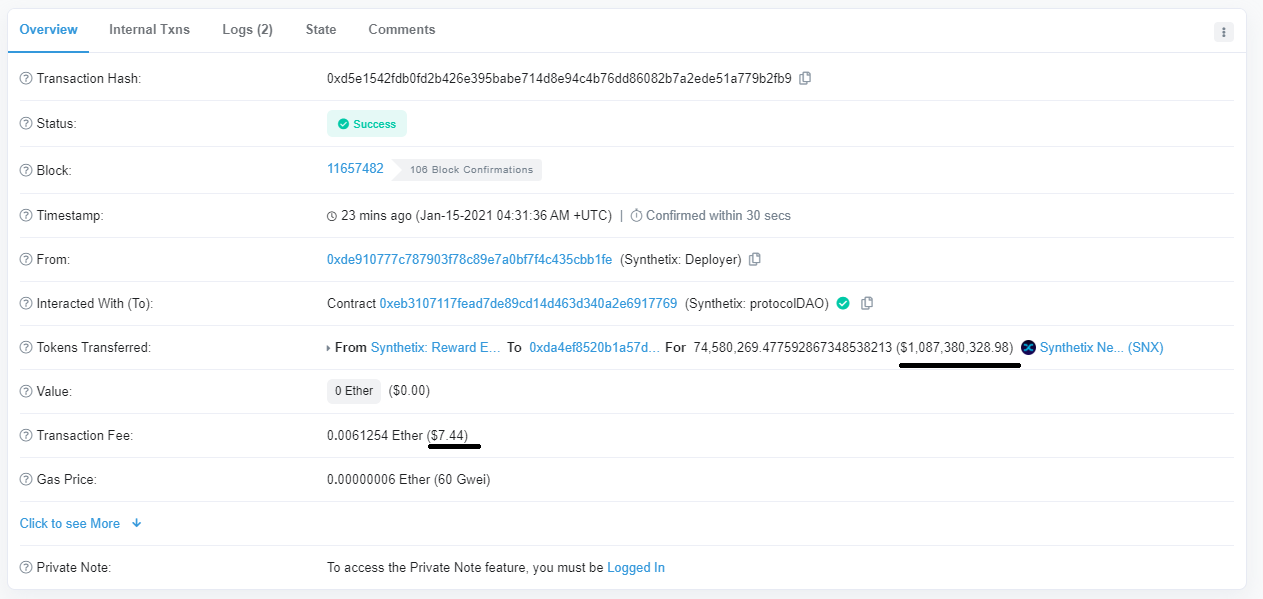 The most interesting part of the transaction is the amount charged for the transfer. A meager $7 fee was charged to move a whopping $1 billion worth of tokens on the Ethereum network. This is probably the largest transaction conducted on Ethereum today.
It is unimaginable for a transaction of this sort to be processed by traditional financial institutions within a couple of hours not to talk of seconds. The transaction fee required for such a transaction will also be very high.
On the other hand, this Ethereum transaction was not only fast but also low on the processing fees charged.
Cryptocurrency transactions allow individuals to send and receive large amounts of money without any need for intermediaries and they can do so anonymously.
Although the privacy offered by cryptocurrencies is often misused by certain individuals with bad intentions, it is the driving force behind the growing interest in cryptocurrencies.
Coinfomania has reported several other large transactions similar to this Ethereum transaction. Just a few months ago, $108 million worth of bitcoin was moved for a fee of just $8.

Your crypto deserves the best security. Get a Ledger hardware wallet for just $79!