Google Trends statistics reveal that the number of Google searches for ETH all around the globe has jumped to the levels last seen more than two years ago.
According to the chart, this is the highest level number of Google searches on ETH has reached since March 2018, suggesting that interest in the largest altcoin has soared significantly, hence becoming more popular.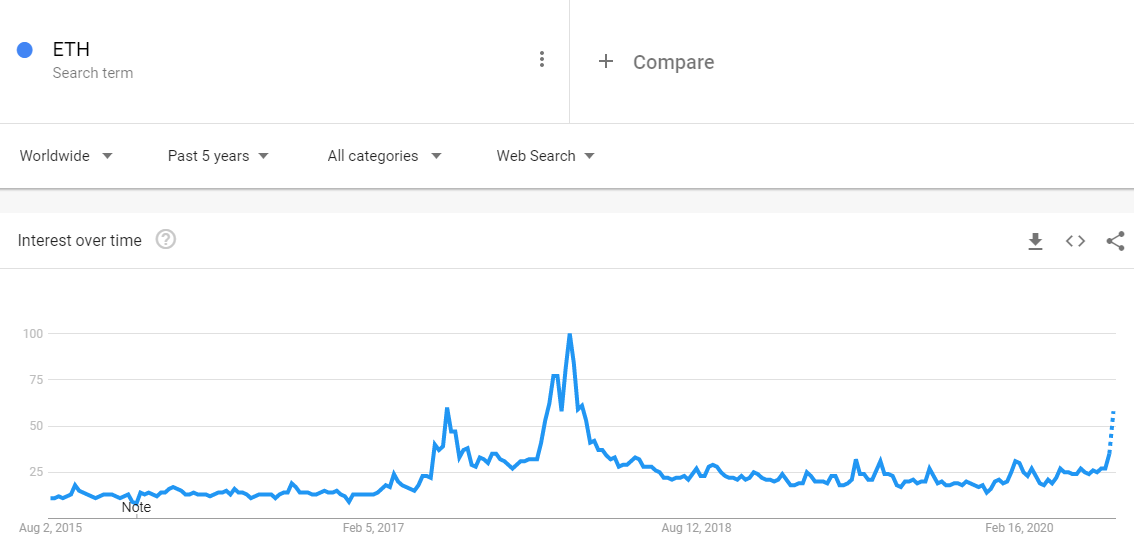 Correlatively, a key insight from Coinmarketcap into Ether explained that it is also experiencing a significant increase in price at this time, saying the price growth has been impressive.
According to data on CMC, ETH has achieved a whopping 28% increase in price in the last seven days. This has happened despite the altcoin not seeing notable pumps in the last two days.
Measuring the public sentiment towards Ethereum with the increased Google Trends coupled with the soar in the price of the coin, one can deduce that the cryptocurrency is gaining larger adoption or at least public interest.
But that is not surprising given our recent report that the number of addresses holding Ether has also increased lately with a large number of investors making good profits from holding the altcoin since the start of 2020.
The Ethereum ecosystem has largely become home to bespoke decentralized finance (DeFi) applications, increasing on-chain activity and attracting many investors to that corner of the crypto industry.
Despite the remarkable growth of the DeFi space, some of the leading figures in the industry continue to warn that participants are not paying attention to the possible risks involved in such protocols.
Litecoin Founder, Charlie Lee spoke out first on the subject, noting that he is not optimistic about the growth of the DeFi ecosystem going into the future.
Earlier this week, Ethereum co-founder Vitalik Buterin warned that DeFi participants are underestimating the risks involved, and predicted that it will take some time for that ecosystem to become sustainable.
Your crypto deserves the best security. Get a Ledger hardware wallet for just $79!