Trading volumes on decentralized exchanges (DEX) since the start of the year has surpassed the total volume for 2019 signaling increased adoption of a decentralized market with no third-party control.
DEX is cryptocurrency exchanges without a centralized authority, i.e, no third party is required. It also promotes peer-peer trading on the blockchain platform. Unlike centralized exchanges like Binance, users of decentralized exchanges do not need to transfer their cryptocurrencies to the platform, which ultimately reduces the risk of theft and hacks. 
Its major drawback, however, has always low trading volumes and market liquidity when compared with centralized exchanges.
However, recent data reveals that that is changing really fast, as more users are now porting to DEX. According to charts on Ethereum analytic platform Dune Analytics, trading activity on decentralized exchanges has reached an all-time high since their inception.
The total volume traded on DEX in 2020 is $3.6B, which is a 50% increase compared to the whole of 2019. The highest volume was recorded in March at $1 billion, which was two times more than what was traded in January 2020.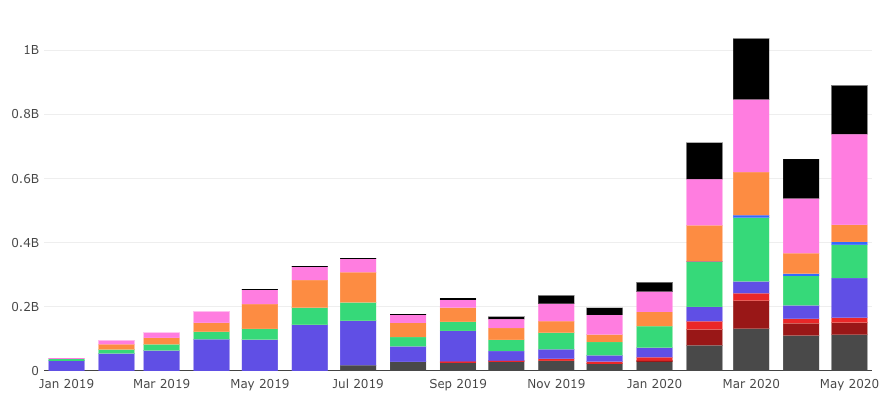 IDEX, a decentralized Ethereum asset exchange is leading the daily DEX market with a 24-hour trading volume of $10,865,668. Following closely in second and third positions are Uniswap and dYdX with daily volumes of $9,755,116 and $5,583,152 respectively.
On the weekly charts, however, Uniswap has the highest volume ($72,925,587) followed by IDEX ($36,978,883) and dYdX ($30,503,083).

Your crypto deserves the best security. Get a Ledger hardware wallet for just $79!