With the long-awaited Bitcoin halving about 10 days away, Bitcoin miners continue to remain bullish on the coin, unlike Bitcoin Cash (BCH) miners who called it quit a few days to the BCH halving.  
The bullish sentiment further indicates that Bitcoin has the strongest supporters in the entire cryptocurrency mining industry, who are confident enough about the future outcome of the coin, even though mining reward will be cut by 50%.
Bitcoin hashrate continues to rise 
According to recent on-chain data, Bitcoin is still demonstrating a massive strength in terms of hashrate, with the long-expected halving standing near, expected to occur on May 12.
At the time of writing, Bitcoin hashrate at 107.10 EH/s, with about days left. In comparison to the supposed Bitcoin fork. BCH hashrate was at 85 EH/s about 11 days to halving. On the day of BCH halving, the hash rate declined further to 70 EH/s. 
As reported, the Bitcoin Cash network speed dropped massively by 83% after the halving. The development suggested that miners have abandoned mining operations as they see mining BCH as an unprofitable investment.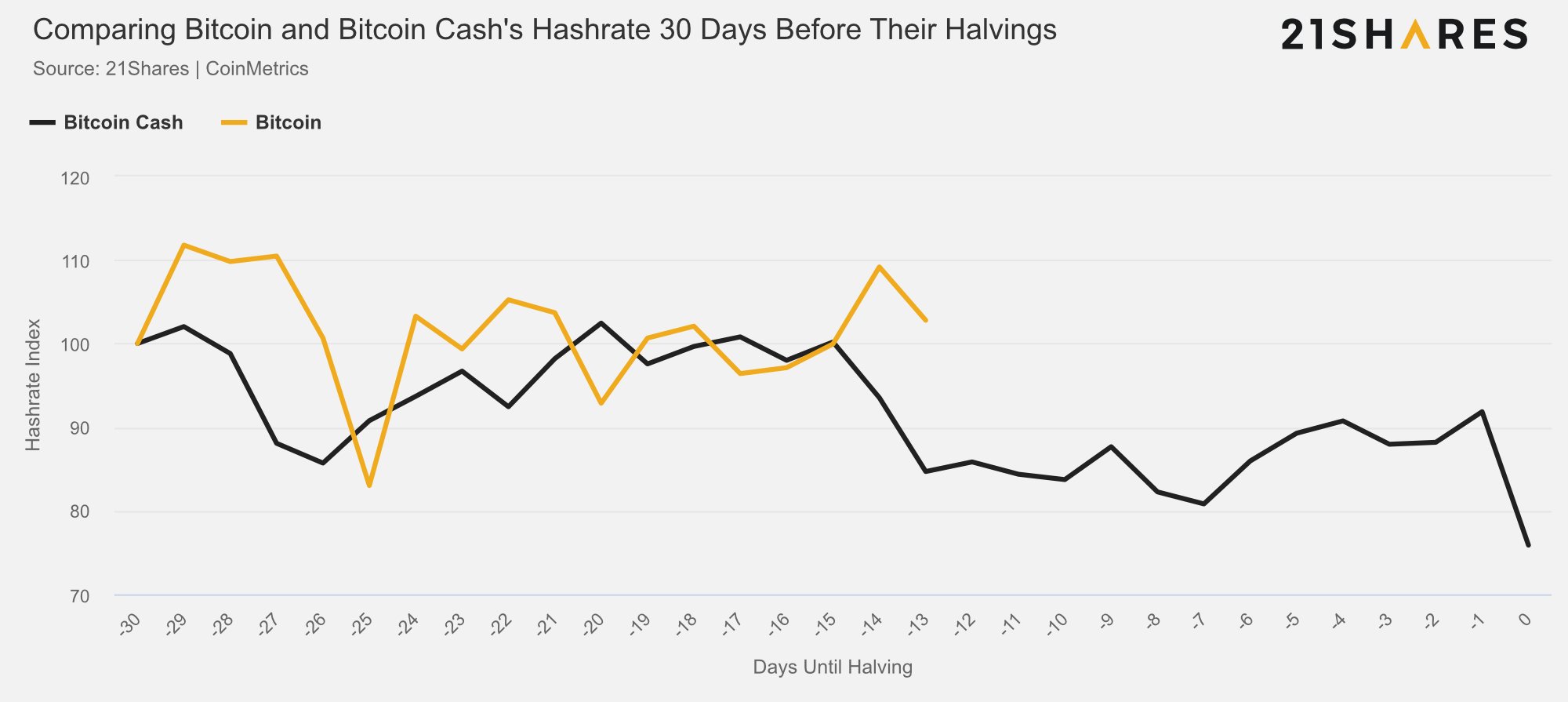 According to 21Shares, a cryptocurrency company previously known as Amun AG, the increased Bitcoin hashrate suggests that more miners are readily expecting the halving event long-term USD mining yields, and are investing in sophisticated mining equipment. 
With a 21 million maximum supply, the Bitcoin halving is a four-year pre-programmed event designed to control its inflation. The event ensures that the BTC mining reward will be slashed by half the current value.
Miners are currently earning 12.5 BTC as a reward and will be reduced to 6.25 BTC after the halving completion in mid-May. However, the deduction is spurring several concerns among miners, as most of them might be forced out of the market, especially the small-size operators.
The reason is because of the high cost of running a Bitcoin mining operation. Bitcoin mining requires high computational power and expensive mining rigs, which also consume large amounts of energy.

Your crypto deserves the best security. Get a Ledger hardware wallet for just $79!