Don't put all your eggs in one basket has been one of the oldest investment and life advice, yet it remains golden. 
However, it seems not everyone understands that yet with a certain Twitter user telling Binance CEO, Changpeng Zhao (CZ) is a private message that they are willing to spend all their life savings to buy Binance Coin (BNB) as an investment.
Ironically, the unknown user referred to CZ's escapade with Bitcoin in its early days. Binance CEO supposedly bought his first Bitcoin in 2014 when the cryptocurrency's price was near $600. CZ even sold off some properties, including his house, with the hope of reaping huge rewards down the line.
Well, that speculation paid off handsomely, especially when Bitcoin hit an all-time high of near $20,000 less than four years later, raising his net worth to between $1 billion to $2 billion.
Clearly, CZ understands that many variables contributed to his investment in Bitcoin paying off. Thus, he strongly advised the Twitter user not to go down the same path, especially not by investing in only Binance Coin (BNB), the native token of the Binance project.
His recommendations, which can be found in the image below shared on Twitter, see CZ further reiterate his known claim that all of his money is in crypto while he only takes out what he needs every month.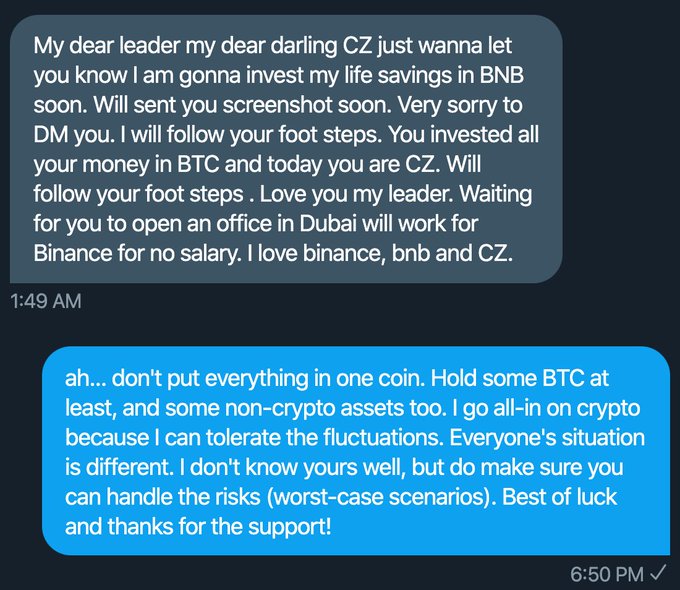 He also advises allocating funds to BTC, at least. "This is a different/safer version of 'don't do what I do, do what I say,'" he added.
By storing all his money in crypto, the Binance CEO is still betting that the value of Bitcoin and other cryptocurrencies that he possibly holds would go higher than it did during the last bull run, and even the years ahead.
However, he certainly can bear any shocking downtrend that cannot be ruled out at this moment, with the crypto industry still in an infant phase and susceptible to wild price swings.