As participants in the cryptocurrency industry optimistically await the upcoming Bitcoin halving event expected to occur in less than 4 days, fresh data from Glassnode suggest that many Bitcoin holders are already in a profitable position. 
81% of Bitcoin supply is in a profit state
According to data on the on-chain market intelligence platform, 81% of Bitcoin current supply are in a profitable state. The data is based on Bitcoin's UTXO realized price distribution. 
Notably, the pre-halving effect of Bitcoin had spelt more growth for the cryptocurrency, both in price and products tied around it. The development is likely because of the bullish performance of Bitcoin after it undergoes halving, although not instantly. Thus, many people are accumulating in the hope of seeing future price surge.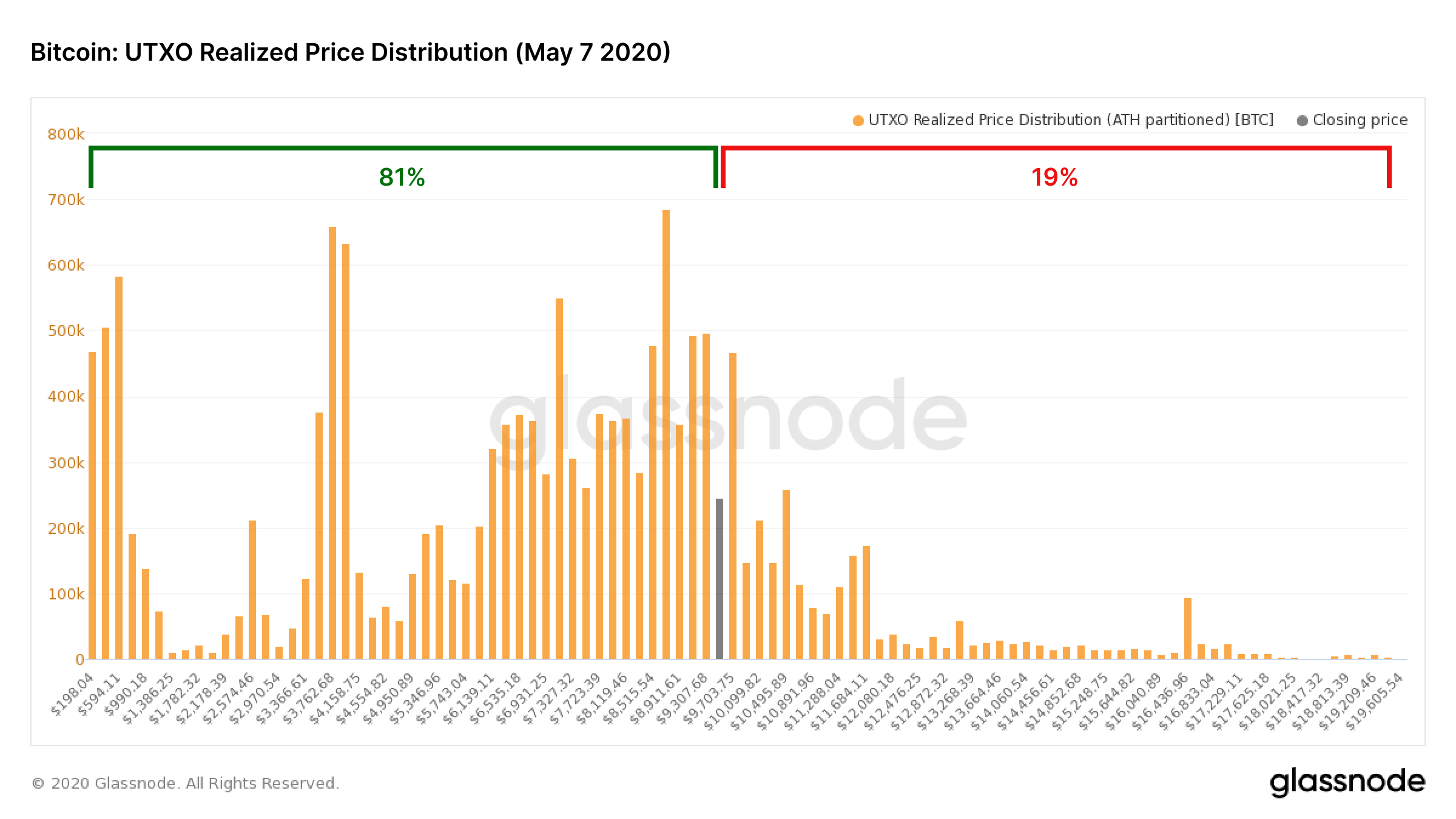 Bitcoin outperforms traditional assets
Coinfomania reported on April 29 that Bitcoin is outperforming major traditional assets, including the S&P 500 on the Year-To-Date (YTD) chart. Despite being flagged as a highly volatile asset by critics and financial experts, the cryptocurrency was up 11%, while the S&P 500 settled at -23% at that time. 
The bullish anticipation of Bitcoin halving is among the factors pushing up the crypto's performance, alongside the increasing purchase rate. As reported earlier today, Grayscale and CashApp alone accumulated 52% of total Bitcoin mined since this year.
This somewhat signals interest among the institutional and retail investors to add more Bitcoin to their portfolio as the halving nears. As per Glassnode, more increase to the Bitcoin price could enable some of the investors to realize near-term profits.
Bitcoin price overview: bullish
Bitcoin is in a bullish performance today. The cryptocurrency is trading near the $10k region. At the time of writing, Bitcoin is exchanging hands at $9,813, a 5.5% gain on the daily chart.  The total market cap for the king coin has now surpassed $180 billion with a total circulating supply of 18,367,412 BTC.
Your crypto deserves the best security. Get a Ledger hardware wallet for just $79!